Technology is a part of our daily life, and machines and processing units are no exception. Technology has changed the way the manufacturing sector works and helped increase efficiency and accuracy across manufacturing units. Just how production lines are automated, cleaning processes are also integrated with technology. Cleaning of components using heat has been in practice since decades.
Burn-off ovens are used in various industries to remove certain flammable materials such as paint and grease from parts and components by heating them at very high temperatures. Over the years, there have been several technology upgrades to these ovens, which have helped improve their safety, efficiency, thus popularity among industrial clients. The One Touch Control technology is one such that has revolutionized burn-off oven designs.
What Is One Touch Control Technology?
One-Touch Control (OTC) technology is a control system used in burn-off ovens. It has automation features that include self-adjustment, load adjustment, vapor sensing, estimation of combustible material, and so on. This can function autonomously, once started, without any human intervention.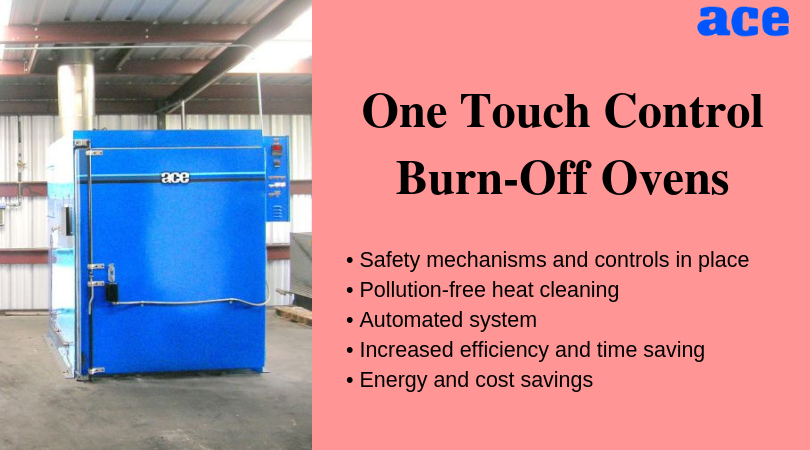 Features of OTC in Burn-Off Ovens
Here are some features of OTC-based burn-off ovens:
It has a pre-programmed electronic temperature control that helps to heat the load at a high temperature. This also reduces the time required to reach the given temperature level.
The backup mechanism of an OTC-based oven consists of primary and secondary water systems. If the load temperature rises rapidly, one of these systems helps control the temperature. If both these systems are not able to lower the temperature, the main burner is auto switched to a low-fire mode.
OTC turns off automatically once the load inside the oven is completed. It also turns off on its own if the load does not contain any flammable materials.
In case of a sudden power outage, the water spray system is activated, which helps bring down the temperature. The water spray system turns of automatically once the temperature drops below 300 degree Fahrenheit. This prevents wastage of water and flooding. It also prevents the emission of odors and fumes from the exhaust outlet.
Why are One Touch Control Burn-Off Ovens Gaining Popularity over Other Technology Ovens?
The One Touch Control burn-off ovens offer several advantages over ovens that are driven by technologies such as ramp & soak control, rate-of-change control, and batch cycle timer control. The following are a few advantages of these ovens:
Safety mechanisms and controls in place: OTC burn-off ovens are extremely safe and sturdy, and possess automated safety controls. These ovens are mostly equipped with a latch-lock system that stops the door from opening until the heating cycle is completed. In case, the temperature rise exceeds its limit, the burner automatically switches to a low-fire mode.
Pollution-free heat cleaning: There is a specially designed afterburner chamber, which facilitates complete combustion of the smoke. Also, the combustion by-products released in the air are harmless and conform to the EPA air emission standards.
Automated system: As mentioned above, this technology enables one touch functioning. One has to just start it by pressing a button and the remaining process is automated; this includes shutting down as well.
Increased efficiency and time saving: OTC enables heating in a matter of seconds. This saves time as well as energy. In a way, this also increases efficiency since a large quantity of load can be handled in a day.
Energy savings and cost savings in the long run: Like any other industrial burn-off ovens, these ovens also need an initial investment. However, they offer a good return on investment in the long run. Once OTC is installed, the speed of load removal increases and the time taken decreases. Also, these oven turns off automatically, if there is no load, thus saving energy.
Using technology in the right manner and proportion has always been a boon for businesses. The burn-off oven by itself has been an innovation, and the much obvious technological integration only furthers it.  There are many burn-off oven manufacturers and suppliers from where you can get custom burn-off ovens made to suit your exact requirement.