An industrial oven is defined as a heated chamber used for various heat treatment processes. They can operate at extreme temperatures and accommodate any workspace footprint. They are available in an array of classifications to meet a wide range of thermal-processing applications. Moreover, industrial ovens are used in automotive, aerospace, oil & gas, chemical processing, food production, and electronics industry. With so many choices out there, how can you select an appropriate industrial oven that's right for your application? This post outlines the key considerations while selecting an industrial oven.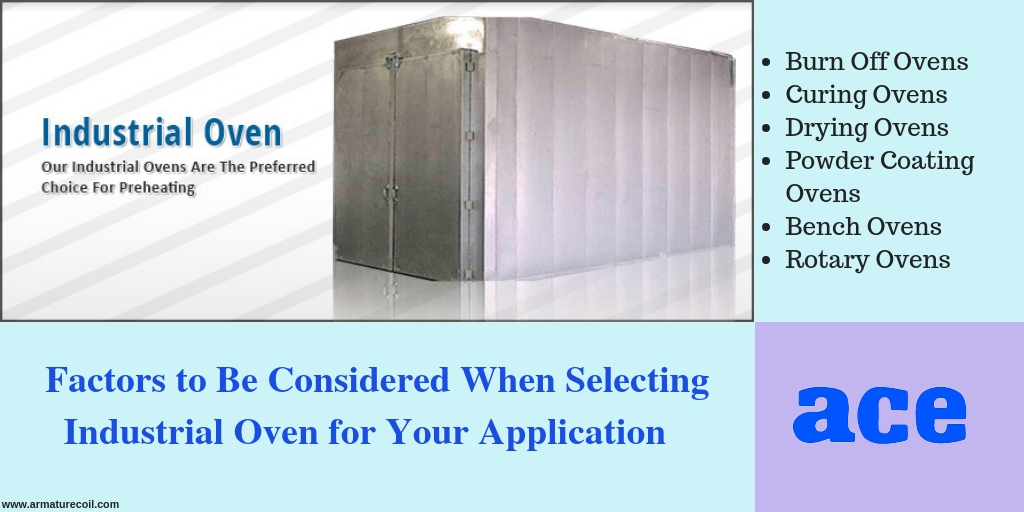 Essentials Factors to Be Considered For Choosing Appropriate Industrial Oven
Following are some most important factors which will help you select an industrial oven for your application. So, let's have a look at them one by one.
Determine Your Application: The first and the most vital step in selecting an industrial oven is defining the application that the oven will be used for. Heat processing is widely used in almost all types of industries. Also, you should consider the environment in which the oven needs to operate. For instance, if you are looking for an oven to be used in a lab for testing, then a small size oven with the ability to document test results is the best choice. Some common applications for industrial ovens include bonding, aging, and homogenizing.
Determine Space: Space is another important consideration while selecting an appropriate industrial oven. If space or area is not an issue then the oven size may not always be the deciding factor. So, make sure that you have space to house an industrial oven properly.
Select the Best Oven Size to Suit Processing Need: The size of the industrial oven depends on various factors such as product size, production volume in each batch and number of batches required in single day to meet production requirements. Industrial oven with the less internal space for the process will result in production inefficiencies, while an oversized oven will often lead to the wastage of space, time, and energy. Thus, it is very important to select a proper oven that will meet your all processing needs.
Consider Temperature Requirements: Temperature consideration plays a vital role when selecting an appropriate industrial oven. You need to ensure the required minimum and maximum temperature for your application. Also, you need to ensure if the oven needs to be able to cool the materials inserted in the stipulated time, in addition to the standard heating process.
Determine the Source of Heat: Determining the heat source for your industrial oven may not generally be obvious. While both electric heat and natural gas offer different advantages, it is important to know which one is suited for your application. Electrically heated ovens are more popular as they heat up instantly. This will reduce the time spent on each batch. However, fuel-fired ovens are ideal for larger workspaces. Moreover, these ovens have the ability to heat to a higher temperature in a short period of time.
Determine Airflow Pattern: Once you are done with temperature requirements and heat resource, then the next consideration should be selecting an airflow pattern. Load configuration is an important consideration while selecting an airflow pattern. Appropriate airflow leads to a successful heat treatment process. Different sizes of materials and the way they are stored can affect the air flow. So, you need to choose patterns accordingly.
All the above considerations may be of help when selecting an appropriate industrial oven as per the industry needs. Still, if you are not able to decide on the appropriate type of industrial oven, you should contact reputed manufacturers or top industry experts who are selling these ovens at an affordable price.