Industrial ovens are heated chambers used for drying and curing processes in various industrial sectors. Industrial ovens are available in a variety of configurations, capabilities, and classifications to fit into any workspace footprint, and to meet a diverse range of thermal processing applications. This post focuses on important tips to select the best industrial ovens adhering to industrial standards and specifications.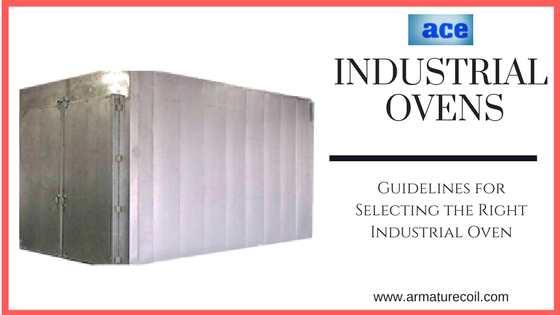 Guidelines for Selecting the Right Industrial Oven
With varied options available around us, the question is how to select the right industrial oven for your application. Below are some tips that will ease the selection process:
Determine the Needs:

The first and the important step is to identify the needs of your application. The process for which the oven is required must be determined beforehand to judge the size and usage of ovens. These ovens can be used in varied applications ranging from curing, drying, burn-in testing, and heat treatment to many others.
Consider the Temperature Requirements:

One of the most critical prerequisites for selecting the right industrial oven. is understanding its minimum and maximum operating temperatures. Various additional temperature considerations should be taken into consideration. These include overall cycle time, required dwelling time at a particular temperature, amount of product load, controlling heat–up rate, etc.
Construction and Design Consideration:

The construction of the oven depends on the temperature requirements, and its required size. Generally, an industrial oven are made from stainless steel, or aluminized and mild steel. The stainless steel construction offers excellent corrosion resistance, and is easy to clean.Several other factors are also taken into consideration while designing an industrial oven. These include surface temperature requirements, floor types, shelves, etc.
Determine the Chamber Size:

Chamber size is an important consideration while selecting the right oven. The oven's chamber must be ergonomically designed to accommodate a wide variety of products in each batch. If the chamber's interior has small space, then it may lead to poor performance. If the chamber is very large, then it may take up lots of time, and space. Also, the chamber must be designed in a way that the air flow is distributed uniformly.
All above-mentioned considerations will help you in selecting the right oven for your industrial needs. If you are still unable to make up your mind about the right type of oven, you can always contact an industry expert or a reputed manufacturer selling these ovens.  Armature Coil is one of the reputed supplier and manufacturers of Industrial ovens. The company has consistently provided their customers with high-quality custom industrial ovens. For more information click here.