Parts cleaning is a process, which is mainly used to protect sensitive components. This process is generally carried out just before surface finishing. It is one of the most important processes, which defines the quality of the end product. Therefore, several industries give major importance to the parts cleaning process. For parts cleaning in industries, several sophisticated parts cleaning systems are used. However, while installing, or before installing the equipment, you need to make sure of certain points. What are these points? This post will discuss some key considerations for selecting the right parts cleaning system.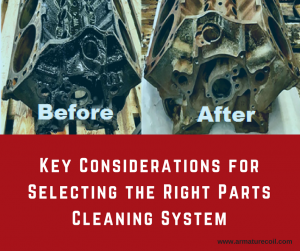 Things to Consider While Selecting a Parts Cleaning System
To make sure that you select the right parts cleaning system for your industrial requirements, you need to answer the following questions:

Do You Have Sufficient Knowledge About the Cleaning System?

It goes without saying that you need to have a proper understanding and knowledge about the project. This will help you in properly analyzing the type of the cleaning system, thus making your selection process even easier. This will also give you a good understanding about which applications is the system best suited for.

Does the Equipment Satisfy its Objectives?

The first and the foremost, you need to ensure whether the equipment is capable of satisfying its objectives. For an efficient flow of the process, it is necessary that the equipment satisfies both cleaning, as well as drying objectives. First, you need to define the acceptable level of cleaned and dried part after it is processed. Based on this, you can make a choice between a standard, and a custom cleaning system. After defining the type of system required, it becomes easier to recognize the inside and outside process of a cleaning process. Thus, you are step closer to selecting the right parts cleaning system.

Do You Know Which Material Handling Method is Suitable?

Lastly, it is very important to know which material handling method is best suited to the equipment that is outside of the cleaning process. In addition to this, you are also required to understand the transitions between mechanical handling system outside of the cleaning process and manual handling method. When you have a better understanding of these things, it will not only help you select the right cleaning system for your organization, but also keep you away from unwanted efforts of manual operations. Furthermore, you will not find the need of any additional material handling equipment.
The answers and the information you get from the three points explained above, will help you get closer to choosing the right system for your industrial parts cleaning process. If you still have any doubts regarding the selection, you can always reach out to an expert who will guide you in making the right choice. One such expert in providing quality parts cleaning service is Armature Coil. The company has a good experience in the field and has a team of experienced professionals.