When should I replace, repair or refurbish industrial oven? Most of the users have this question in mind as they are not very sure when to go for a repair/replace/refurbishment of the existing system. This post aims to list a few amongst the several factors to consider before making 'that' important decision.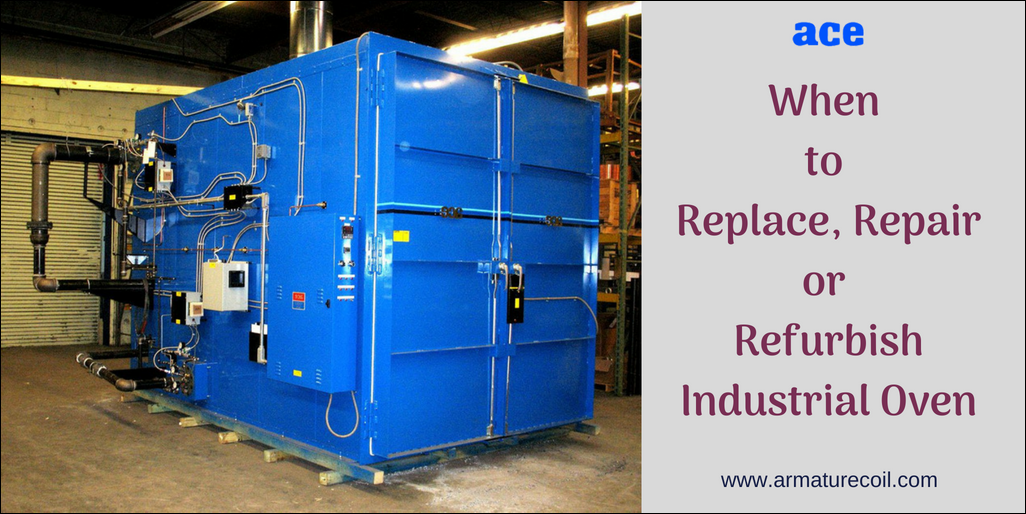 Factors to Consider Before Making a Decision
Like all other mechanical units, industrial ovens – whether custom industrial ovens or a standard type of ovens, are prone to damage after years of service in harsh conditions. They tend to lose their efficiency gradually, posing threat to the overall processes. However, some problems like excessive fan vibration, no (or not enough) exhaust air, or excessive noise can be rectified by rendering the right troubleshooting practices. However, there are some other problems that are beyond overhaul from your end, but would need a repair, replacement or complete refurbishment.
Before making a decision to refurbish or replace your present industrial oven, check the condition of the following:
Mechanical Systems: Thoroughly check the state of exhaust blower, recirculating blower, oven-vent, thermostat knob, and similar other crucial mechanical systems. Ensure that they are good to go. Make a note of the parts that are not working satisfactorily.
Ductwork: If the ovens ductwork is not in a good shape, then it will negatively affect the even heat distribution throughout the oven, resulting in several heating issues in industrial oven. Hence, being a critical part, ductwork condition should be an important consideration.
Condition of other Elements: Damage to heater elements, excessive wear of couplings, worn bearings, faulty temperature sensors, rusty structural steel framework etc. pose threat to the ovens' normal way of working.
Besides the aforementioned, check fans/motors, exhaust fan blades, and exhaust discharge point(s), fire suppression system and other electrical connections thoroughly. If only a few parts of the oven are found to be defective beyond repair, consider replacing only those damaged parts. However, in case the most of the parts are found to be faulty, then don't take a chance, but replace/refurbish the existing oven on an immediate basis.
Consider speaking to the industrial oven manufacturer from whom you have sourced the unit before making a decision on servicing, refurbishment or replacement. The manufacturer might have some important guidelines or suggestions to provide you that help you make a wise decision.