Burn-off ovens are extremely useful in industrial settings as they help in cleaning parts effectively. Burn-off ovens can easily strip coatings of plastic, powder paint, rust, and more. Purchasing a burn-off oven is an important decision, one that must be made with complete knowledge of the product, application, and the outcome expected. Before even beginning the selection process, you should list down the details of your requirements. This should encompass the oven's capabilities, the points of integration with other systems in your manufacturing or packaging unit, and the physical structure of the oven in accordance with the environmental conditions.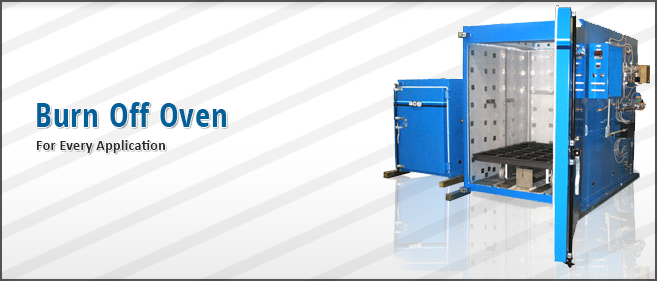 Burn-off ovens are expensive, as is their maintenance and usage. In case you are stuck with the wrong design, it will create financial and operational issues in the long run. Hence, careful consideration should be given to the product being purchased. In this 4-part blog series, a checklist of these factors is covered.
7-Point Burn-off Oven Purchase Checklist
The following points should be kept in mind when purchasing burn-off ovens:
Construction
The manner in which the burn-off oven is constructed will affect its functionality for the entire service life cycle. Your manufacturer will design and fabricate a burn-off oven according to your needs. For instance, if you are looking for a heavy-duty oven with the capability to endure a lot of abuse from high temperatures, humidity, and abrasive conditions caused by chemical use, your manufacturer will have to create an enclosure using 11-guage steel. Your manufacturer could also coat the interior of the oven with a protective layer to avoid corrosion. In case the employee is careless when loading and unloading parts into the oven, a robustly constructed oven will be able to handle this abuse. Proper fabrication also reduces maintenance frequency, time, and cost. In such cases, the overall life of the oven increases. A well-built design can compensate for poor controls and employee negligence. Hence, the overall structure of the oven is critical to maintain high levels of efficiency as well as ensuring high Return on Investment (ROI).
Although we covered only one factor in this post, several more factors like the heating sources, controls, size, etc. need to be considered when purchasing a burn-off oven. We will elaborate on these points in the following blog posts. Visit this space next week to know more.