Industrial burn off ovens using hybrid technology of radiant plus convection heat are preferred by most buyers for their optimal and uniform heating. These machines utilize cutting edge technology to deliver results that are exceptional.
Practical Application: How does it Work?
Here we will attempt to answer the question of how two different heating technologies like radiant and convection heat function. Radiant and convection heat are produced in the following manner in an industrial burn-off oven:

ACE Equipment Radiant Tube Oven
The radiant tube is strategically placed in the center of the oven spanning its length.
The entire tube consists of holes.
A gas burner introduces fire into the entire tube.
Convection heat then escapes through the holes located on the tube.
Heat is transmitted through the entire oven in an upward direction.
The radiant tube is mounted on an adaptor tube.
The entire oven construction and heating process ensures uniform and quick heating of the oven and the products placed within its chambers.
Advantages of Using Radiant plus Convection Heating Technology
In most applications, the hybrid technology of radiant plus convection heating is preferred. Here's why:
They are capable of producing highly heated environments. The operating temperature lies between 650 – 800 ºF (340 °C – 427° C).
It is a safer method for heating an oven chamber used to clean or strip off parts.
It ensures more uniform heating compared to convection heating.
The heat extraction efficiency in burn off ovens using hybrid heating systems is around 90%.
It saves time spent in heating the contents of the oven, thus speeding up the entire process.
It can be used to strip off/ clean a variety of materials like rubber, oil, paint, varnish, etc.
It uses around 20% less energy compared to convection ovens.
Hence, the overall performance of these burn-off ovens makes them a popular choice in several industries.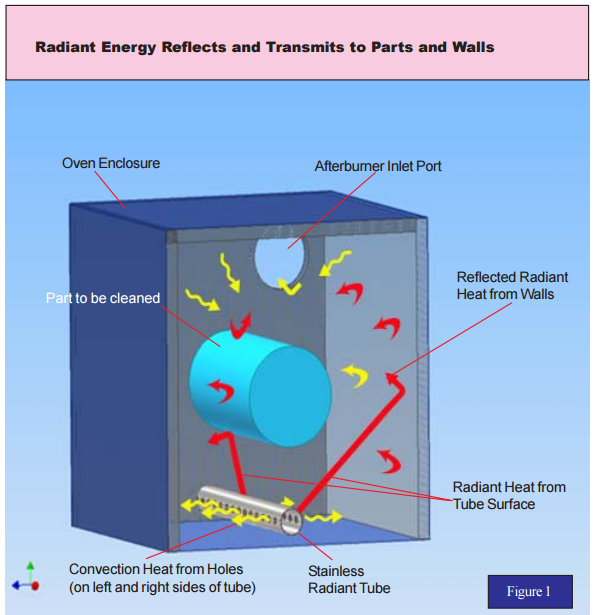 Most oven manufacturers will also provide in-built safety features that will take care of situations in case of a fire. Industrial burn off ovens are equipped with water spray systems that spray water to cool the interior of the oven in case of an emergency. Emergencies constitute presence of flames, fumes, and even disconnection of power.
In conclusion, radiant and convection hybrid heating systems are used in applications that require higher operating temperatures. It is important to ensure that your oven is equipped with all safety features necessary.