Powder coating, which is the electrostatic application of organic powder to metal parts, is a widely chosen finishing process for its capability to offer economical, and durable finish with a range of colors to the parts. This advanced method of applying a decorative and protective finish has evolved as a popular dry finishing process in recent years. The technique, which uses a powder consisting of resin and fine pigment particles, brings you several benefits compared to the wet painting process in several aspects. While both the processes serve a similar function, powder coating is employed on a variety of products compared to the wet painting process. This post discusses a few advantages of powder coating process over wet painting technique.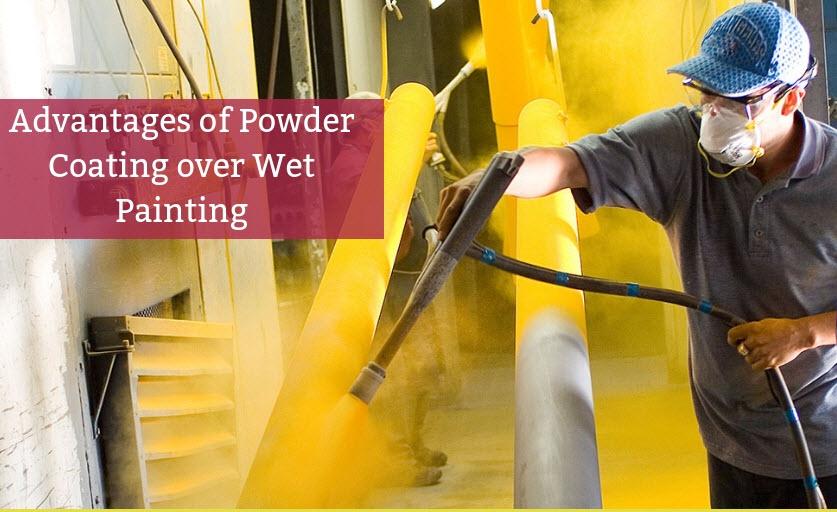 Why Choose Powder Coating Over Wet Painting Process?
The following points answer one of the most important questions users have in their mind, why powder coating is more beneficial than wet painting on ovens?
Powder coating which is usually performed using powder coating curing ovens is more resistant to:

Corrosion
Chemicals
Weather
Chipping
Scratching
Fading
Wear and tear

Compared to its wet-painting counterpart, powder coating offers more attractive finishes with the use of vibrant colors, whilst also providing a more uniform coating on the metal substrates.
Powder coating process requires minimal human intervention, which is not the case with wet painting. Powder coating has fewer reject rates, lower energy cost, and minimal waste disposal costs. All these contribute to minimal operational costs compared to liquid painting.
Since the wet paint used in the finishing process contains carcinogenic and volatile organic compounds (VOCs), it imparts threat to the environment. On the other hand, powder coating, which uses VOC-free materials with no solvents, is not hazardous to plant/shop, atmosphere and personnel handling the curing process.
The powder coated products that come out from the industrial powder coating ovens can be put to operation in minimum 30 minutes to maximum one hour. This is not the case with liquid painted parts, which normally takes days to cure.
The equipment used for powder coating, mainly powder coating ovens are energy efficient compared to the equipment used for wet painting process.
Powder coating can form much thicker coatings compared to that of wet paint coating.
Owing to the features aforementioned, powder coating processes are largely chosen for curing parts such as appliances (dryer drums, water heaters, dishwasher racks), automotive (decorative trim and accent parts, and hubcaps), construction (tractors, and fire extinguishers), and electrical (lighting fixtures, and heating elements), and so on.
However, in order to provide you with the expected results, it is extremely important to use the reliable and best-quality powder coating batch ovens for the finishing processes. Always prefer buying these ovens from the expert in the market who works with the most advanced technologies. Would you like to opt such performance-driven curing ovens for powder coating finishing applications? Armature Coil Equipment is a leading name who have been manufacturing industrial curing ovens since 1919. With a commitment to help the customers to operate efficiently and more profitably, ACE offers powder coating curing ovens that guarantee uniform air distribution, temperature uniformity, compliance with standards, and heavy-duty construction. The company also provides quality used powder coating ovens at cost effective prices.