The growing importance of industrial ovens is evident of the increasing applicable benefits of these machines for a number of operations in different industrial sectors. This blog will particularly talk about a type of industrial oven that is known as powder coating oven.
What is Powder Coating?
It is known as an effective technique that includes applying a protective coating (which also can be for the purpose of decoration) to most types of metals in order to provide a high-quality, durable and attractive-looking finish to the same. The process of powder coating is also used for several industrial and commercial purposes and applications that would be discussed later in the blog.
How does a material get powder coated?
The powder required for coating is a fine mixture of resin and pigment particles and the same is electrostatically sprayed over an object that is meant to be coated. Now, these electrically-charged powders stick to the surface of the object automatically. The next immediate step includes heating up the powder coated object to sufficient temperature in a curing oven. This heating up of the object to a specific temperature renders smoothness, attraction and durability to the object's coated surface. Unlike other ambiguous processes dealing with industrial ovens, powder coating oven and its process of providing excellent finishing to objects is quite easy to understand and apply.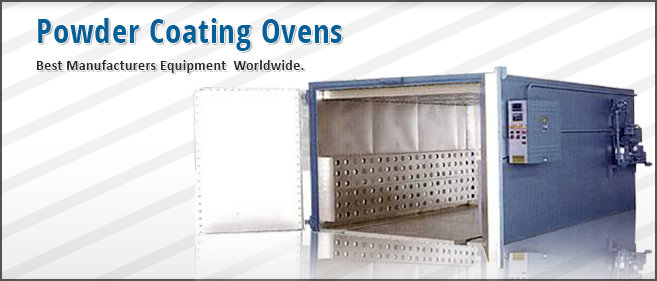 Where Powder Coating Ovens are Used?
Owing to its rising benefits of powder coating oven, it is used for a wide gamut of coating applications pertaining to the following sectors and industries:
Automotive Sector: A number of automobile parts and products use powder coating for rendering protection against conditions such as extreme weather and temperature variations, moisture and corrosion, acid rain, radiations, weather and road damages etc. Powder coating is applied to fuel filters, battery trays, shock absorbers, engine block casings, brake pads, door handles, trailer hitches, wheels, grills, roof racks and so on.
Architectural and Construction Sector: This sector used powder coating application on aluminum extrusions that are used on doorframes, windows, kitchen, building facades, electrical fixtures, bathroom fittings, modular furniture and so on. Similarly, highways projects use powder coating oven to offer finishing to guard-rails, bridges and buildings, monuments and idols, lighting poles, road signs, posts, fencing etc.
Appliance Sector: This industrial sector deals with numerous home appliances, which require powder coating for refrigerators, dryer drums, washer tops and lids, range housings, water heaters, vacuum cleaners, air conditioner cabinets, microwave oven cavities, dishwashers, freezer cabinets and many more.
Besides these sectors, which use the process of layering with the help of powder coating oven, there are other significant industries that require the help of powder coating process, and these are lawn and gardening sector, general industrial market and military applications.
Can you Use Powder Coating Oven for Home Applications?
The most interesting part about powder coating is that the process can be used for applying attractive layers or coating to several home applications and objects of decorations. This process works without applying any solvent on the object. One can use the method of powder coating for home applications by using an electronic gun or other types of guns for spraying the electrically charged powder on the surface of the object. These types can be corona charging gun, tribo charging gun, bell charging gun and so on. The next step that follows is heating up the object using an unused oven at home (not to be used for heating food after powder coating process).
If you are looking to acquire durable powder coating ovens with unquestionably high level of quality and performance, ACE Equipment can assure to provide you with the best deal in the market.