Congratulations on purchasing a brand new powder coating oven from Armature Coil Equipment (ACE). As the name suggests, this oven is designed to cure powder on a wide range of metal substrates.
For a successful and safe operation, you must know every piece of information related to the equipment. Which is the right source for gaining the product related information? Of course it is the user manual supplied along with the product.
Prior to operating the oven, read and understand the information given in the manual. You will find everything you need to know about powder coating oven in the manual. These include installation procedures, operation, maintenance, and safety guidelines. You will also find a worth reading section about troubleshooting tips in the manual.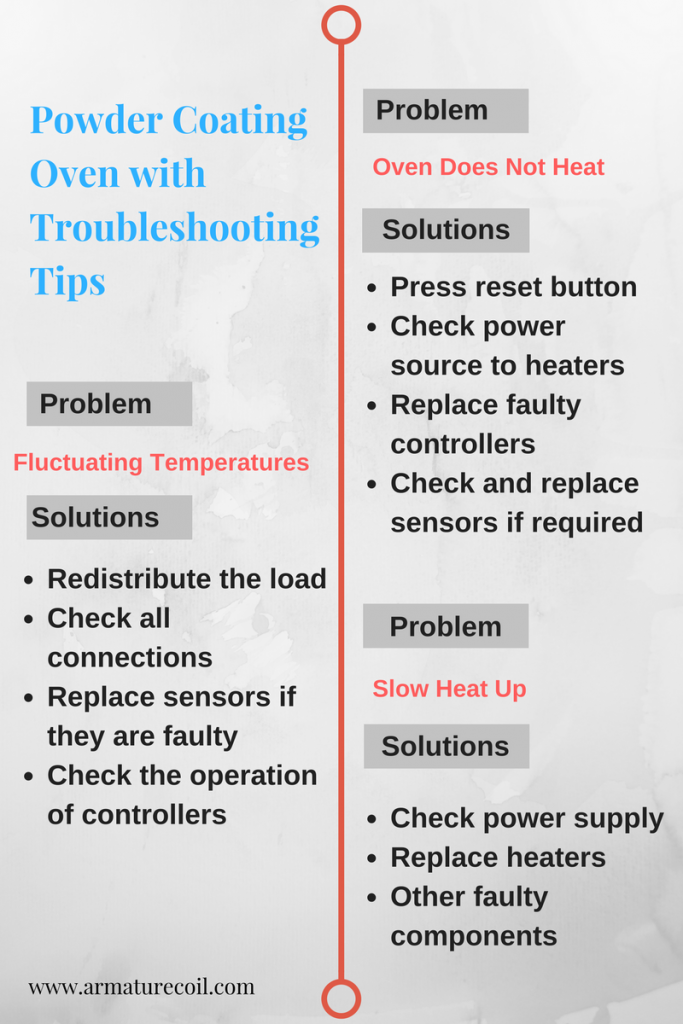 How Troubleshooting Tips Help Regain the Oven's Functionality
Being a mechanical device, your powder coating oven may experience some kinds of malfunctions during its service period. Troubleshooting tips will really help in such circumstances. Instead of taking the oven to a repairing station, you can try to regain the oven's functionality in-house. To do this, you must be well versed with the troubleshooting tips. In most powder coating oven user manuals, you will find a section completely devoted for 'Troubleshooting Tips'.
You will find tips for the basic and common problems associated with the oven such as:
Example 1

Problem– Oven Does Not Heat
Solutions – Press reset button, check power source to heaters, replace faulty controllers, check and replace sensors if required.
Example 2

Problem – Fluctuating Temperatures
Solutions – Redistribute the load, check all connections, replace sensors if they are faulty, and check the operation of controllers.
Example 3

Problem – Slow Heat Up
Solutions – Check power supply, replace heaters, and other faulty components.
As you can see in the aforementioned examples, troubleshooting tips are provided in simple language for easy comprehension. The language is deliberately kept simple so that the operator can understand the tips without seeking the help of a specialist. However, make sure that the troubleshooting is performed by strictly following the guidelines provided. Not everyone should be allowed to troubleshoot the oven. Deploy a person who is knowledgeable and experienced to handle the same.
No need to get perplexed when your powder coating equipment fail next time. Check the machine for the problem and troubleshoot it as per the guidelines provided. Many basic problems can be rectified with troubleshooting. This will help reduce costly downtimes and expensive repairs.