Industrial ovens are the heated chambers that are used for a wide range of industrial applications, which include curing, baking, or drying parts, components, or final products. These ovens can be used for small as well as large volume applications, either in batches or continually with a conveyor line, and over a wide range of temperature, sizes as well as configurations. Some of the most common types of industrial ovens are: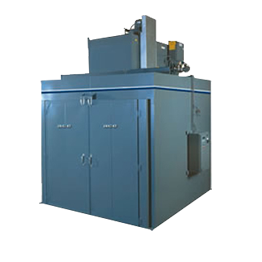 Curing Ovens
Batch Ovens
Drying Ovens
Reflow Ovens
Baking Ovens
Indexing Conveyor Ovens
Conveyor or Continuous Ovens
Spiral or Rotary Ovens
Clean Room Ovens
Vertical Ovens
In this post, we will discuss more about the curing ovens.
What are Curing Ovens?
A Curing oven is a type of industrial oven that creates a chemical reaction in a material after a particular temperature is reached. Different definitions for curing provide diverse viewpoints on the procedure. Engineering and Polymer Chemistry defines curing as a process of improving the durability and increasing the strength of a substance. The curing is a process of preparing or finishing a material by chemical or physical process. The main objective of a curing oven is to cure a coating, product, or some adhesive.
What are the Key Considerations for Choosing the Right Curing Oven Supplier?
It is a well-known fact that budget is one of the most important considerations while buying any type of industrial oven, and thus, curing ovens are not an exception to this. Nevertheless, it is not always true that a low priced product is the best. You save money on the low priced products, but have to pay later for product maintenance, and operation costs. Therefore, you should choose the oven that best suits your requirements, and purchase it from a reliable supplier. Here are some of the key considerations to make while choosing a supplier for your curing oven:
Electrical Capabilities: Check whether the supplier is able to meet CE, NEC, UL, and other certifications. You should also check if they design electrical systems and PLC programming in-house. If that is not the case, then there are chances of delays in receiving support with troubleshooting after the oven is in operation.
 Factory Acceptance Testing: Check if the manufacturer offers factory acceptance testing service. This means the manufacturer will get the product and will run product for you before shipping the oven.
After-Sale Service: Last, but the most important consideration – Does the manufacturer or supplier provide after sales service? Does he have staffs for installing the oven? Does the staff offer maintenance program?
Purchasing a curing oven involves meticulous analysis of the oven and the service provided by the supplier. It goes without saying that you should always take into account the aforementioned key considerations while buying a curing oven that will offer you a successful curing. For more information of curing oven, you can get in touch with the expert and experienced curing oven manufacturers and suppliers.