A curing oven is one of the most important types of industrial ovens used in the automobile industry. These ovens are used for a variety of heat treating processes in the automotive facilities. Today, there is a high demand for these ovens, as many small and medium-sized automotive facilities are improving their in-house heat-treating capabilities. Due to this, there is an abundance of variety when it comes to the curing oven for the automobile industry. With so many choices to consider, it is quite obvious to get confused about them. This post eases the selection process by offering some easy-to-follow tips.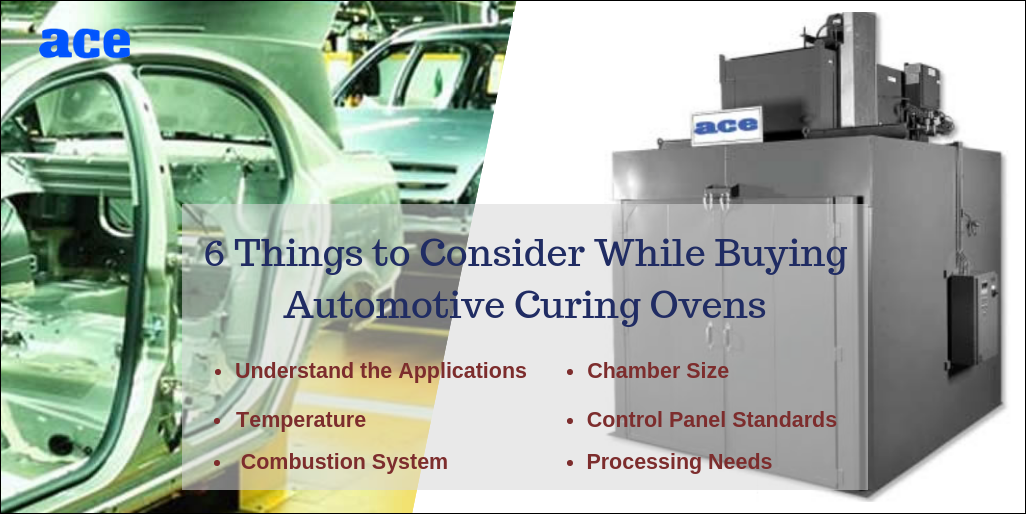 6 Important Factors to Consider When Purchasing Automotive Curing Ovens for Your Automotive Facility
Purchasing a curing oven involves several variables and high costs. Hence, you cannot go wrong while selecting them. There are several important considerations to make while purchasing these industrial curing ovens. The following tips will ease the selection for you:
1. Understand the Various Applications of Ovens: Curing ovens are used for a wide range of heat processing applications. They are usually employed for the following:
Curing Polymers and Adhesives
Curing Paints and Coatings
Pre-heating Metal Coatings
Drying Parts
Maintaining and Servicing Diesel Particulate Filters
What is your ultimate application goal? This understanding will ease your selection.
2. Chamber Size: This is another important parameter to consider. The size of the chamber will entirely depend on the size of the products being cured, as well as the number of product batches required every day to be cured. If there is an insufficient space inside the chamber, the curing will be incomplete or slow. However, if there is a large space inside the chamber, there will be a wastage of energy.
3. Temperature: The operating temperature of these heat treating oven ranges from 350ºF – 550ºF. Hence, it is important to analyze the maximum and minimum temperature of requirements of the application.
4. Applicable Standards for Control Panel: There is a demand for UL & CUL listed ovens. The UL is a globally accepted standard, which regulates the highest safety standards at the workplace. Also, it helps ensure the quality of the product being produced. UL listed control panels are the conformance of the highest safety standards.
Note: It is important to check if the control panels have UL classified sticker inside them.
5. Applicable Standards for the Combustion System: An automotive curing oven comprises several safety components such as high/low-pressure gas switches, air proving switches, isolation gas cocks, etc. Understanding the relevance of these components, it is important to ensure that they meet various approvals such as NFPA 86, IRI, and Factory Mutual.
6. Specific Processing Needs: Sometimes, your automotive application may demand a clean process to avoid contamination. This requirement will be fulfilled if your automotive parts cleaning oven is equipped with special features. Hence, it is important to ensure that the oven chosen by you meets these special requirements.
The choice of curing oven for your automotive facility will depend on a few more factors. There may be several other questions bothering you during the consideration phase. However, the above-mentioned factors will ease the selection process for you. Get in touch with the expert and experienced curing oven manufacturers and suppliers for more information.