Industrial powder coating ovens are used to provide a long lasting coating on metal components. In this process, instead of paint, dry powder is used to coat a surface. The results of using an oven for powder coating are incomparable as the coating is uniform. Other than this, powder coating offers many more benefits than paint does. The process followed when using powder coating ovens is precise and the steps should be followed completely to ensure a long lasting coat.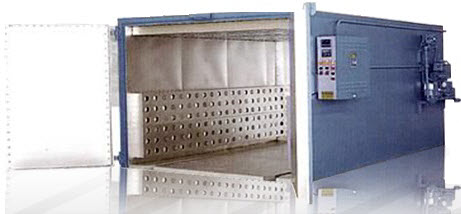 Powder Coating Process Breakdown
The following is an outline of the process followed when an electric powder coating oven is used to powder coat a metal surface:
Pretreatment a chemical bath is used to clean the metal part completely. Once clean, the surface is rinsed thoroughly with water. Sometimes, the metal surface is covered with phosphate crystal to ensure better corrosion protection of the material. Finally, the metal is thoroughly dried.
Powder Coating In this step, the metal is moved into the curing oven and meticulously sprayed with fine powder.
CuringThis is an extension of the above process. Once the metal part has been sprayed with paint powder, it is heated at high temperatures sometimes using infrared. This step allows the paint particles to adhere to the surface.
Although powder coating is an energy intensive process, it provides the benefit of long lasting results. It also keeps the metal from being corroded and serves as a barrier for water, dust, and bacterial infestation. This feature comes in handy in several industries where high levels of hygiene are expected. For these reasons, this process is extremely useful when used for both commercial as well as industrial applications.