As the name suggests, industrial drying ovens are used for the withdrawal of moisture content from a substrate of a product. These ovens are highly popular to conduct various laboratory or industrial drying/ curing experiments.
The drying ovens are also commonly known as dryers. They can be obtained in various types based on the mechanism they use for the removal of moisture. Some of the most commonly used drying ovens are:
Rotary Drying Oven
Vacuum Drying Oven
Conveyor Dryers
Gravity Convection or Forced Air Convection Drying Ovens
Basic Double Wall Drying Ovens
Understanding in Detail about Industrial Drying Ovens
Drying ovens are useful in various industrial applications such as incubation, sterilization of different products, evaporation (partial or complete), temperature testing, etc. These ovens are designed for exceptional heat distribution and drying. Delicate items like electronic chips or chemicals can get adversely affected if the drying is way too quick or too slow. Based on the size of your product or nature of the application, you can get drying ovens of different shapes, sizes, and capacities.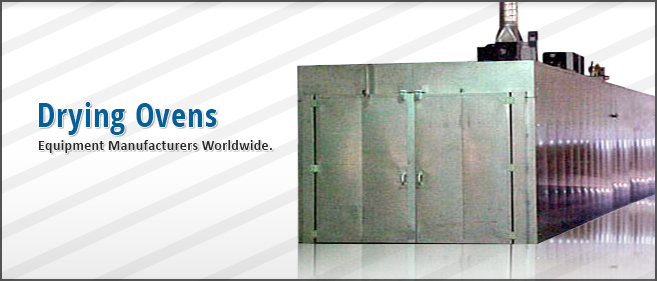 Applications of Industrial Drying Ovens:
Industrial drying or heating ovens are used in a variety of applications, such as:
These ovens are useful in the electronic industry for drying electrical items, circuit boards, electronic chips, etc.
These ovens can be used for degassing epoxy resins.
They are highly useful in the food and beverages industry to dehydrate as well as sterilize certain items before packaging.
Drying ovens are used in the pharmaceutical and medicinal industry for sterilization as well as incubation of different preparations/ samples.
These ovens are used in the Research and Development sector for sample preparation and temperature grading.
Industrial dryers are immensely useful for the process of ageing plastics.
They can be used for the determination of humidity content in edible items.
The hospitality industry makes use of these industrial drying equipment to dry/ warm up blankets, and in some cases crockery.
These ovens can effectively dry coatings, adhesives, and moisture content in various parts of machinery during the process of manufacturing.
Conveyor drying ovens can dry up the interiors of a conveyor.
All these applications and many more stand as testimonials to the fact that industrial ovens are versatile and immensely useful in various sectors. With proper maintenance, these ovens can serve any industry for a long time.