Drying ovens have numerous applications in food processing, pharmaceutical, manufacturing, aerospace industries, among others. They are utilized for simple operations such as drying glassware, drying water based coatings and removing moisture content from large components. These ovens are available in several specifications for batch processing and continuous processing applications. Since these ovens are crucial for performing aforesaid drying operations, it is important that they should perform to the highest standard with minimal down time. Here comes the significance of preventive maintenance as it maximizes ovens' life, whilst reducing shutdown frequency. Is there a right way to do it? This post gives important tips on conducting the preventive maintenance of industrial drying ovens.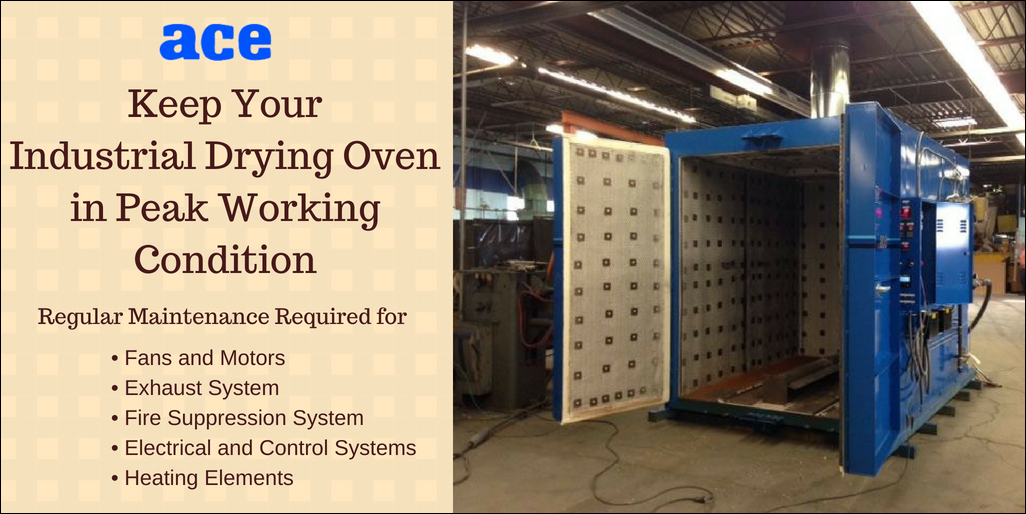 Tips to Conduct Preventive Maintenance of Industrial Drying Ovens
Scheduling preventive maintenance programs at regular intervals largely help industrial drying ovens to maintain their quality and run efficiently. Personnel conducting the preventive maintenance should thoroughly check the following:
Fans and Motors: Belts, fan bearing and exhaust fans must be checked in detail. It is important to ensure that the belts are free from any kind of wear and damage, and fan bearings are thoroughly lubricated. Moreover, exhaust fans in the drying ovens must be examined and cleaned as per the instructions in the user manual.
Exhaust System: The next vital part that is prone to damage is the exhaust system. Therefore, it requires periodic check and proper maintenance. During preventive maintenance, exhaust ducts, exhaust fan blades, and exhaust discharge point(s) need to be methodically inspected for any kind of damage. Clean the parts to prevent residue build up in their interiors.
Fire Suppression System: To assure proper functioning, fire suppression system of the industrial drying oven should be inspected regularly and maintained properly. It is crucial to inspect and clean all the fire sprinkler heads to guarantee efficient and safe operation.
Electrical and Control Systems: All electrical connections and motor load currents must be inspected meticulously to keep your process operating at peak production levels. If any heating or control system is found faulty, do not wait until the issue gets escalated. Service or replace the part immediately.
Heating Elements: Drying ovens fail to provide expected performance if their heating elements are damaged. Hence, when conducting preventive maintenance, do inspect heating elements and check whether they are dislodged or distorted. Clean the elements thoroughly and tighten all the loose elements.
So far we have discussed various steps involved in preventive maintenance of industrial drying ovens. We have also discussed the crucial parts that are inspected during preventive maintenance. Read the Part-II of the post to understand more.