In the previous post, we had a brief discussion on the importance of preventive maintenance to ensure the smooth operation of industrial drying ovens. We have also discussed some of the crucial parts that are examined during preventive maintenance program. In this post, we will discuss the other vital factors that require proper examination and regular maintenance.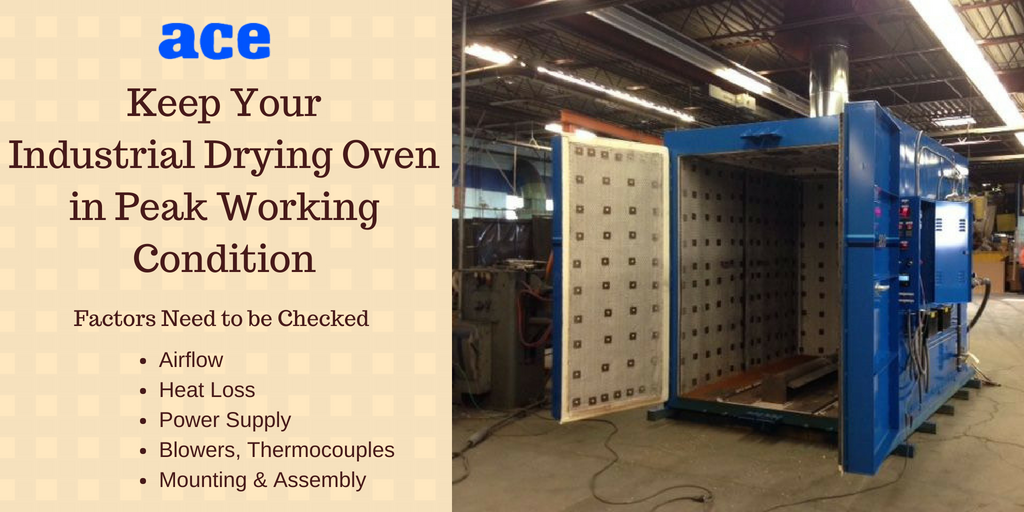 Important Factors that Needs to be Checked During the Preventive Maintenance of Industrial Drying Ovens
The following are a few important factors that will contribute to the optimum performance of the industrial drying ovens. Hence, they need to be checked thoroughly while conducting the preventive maintenance of the industrial drying ovens.
Airflow: Restricted airflow poses several performance issues such as changing the temperature profile, and overheating the electrical elements. To avoid such cases, personnel who conduct preventive maintenance program must examine the oven chamber, ventilation, and ductwork properly. Also, it should be ensured that the ventilation and ductwork are clean, and there are no dirt or contaminants clogged anywhere.
Heat Loss: Excessive heat loss affects the overall performance of industrial drying ovens. Personnel conducting maintenance program must check the doors, gaskets and port inserts for integrity of heat seals so as to avoid excessive heat loss.
Power Supply: Both over and under voltage is harmful for your drying oven. The power supply must be consistent to avoid overloading of control devices and operational failure of relays and solenoid valves. Those who perform preventive maintenance checks the power supply and ensure that it is supplied within the limits.
Besides the parts aforementioned, operators also check the blower, thermocouples, mounting and overall assembly to ensure their proper functioning.
Whether the drying oven is used for a simple or complex drying application, it is important to conduct preventive maintenance to avoid unforeseen failures and malfunctions. Take precaution to avoid factors that may cause breakdowns in between any demanding drying operations. It is important for the oven operators to go through the instruction manual thoroughly to understand the routine maintenance program.
By conducting preventive maintenance and other routine maintenance, you can ensure that your industrial drying oven is operating the way it should be. If you do this regularly, you can avoid costly downtimes, as well as expensive repairs. Almost all general maintenance works can be done in-house by the oven operators themselves. You may also seek the service of a qualified professional in case you are planning to conduct a comprehensive annual maintenance program. Armature Coil Company is one of the leading manufacturers of industrial ovens, and provides extensive preventive maintenance programs on all its products.