Winding machines, which are also referred to as winders are the most commonly used equipment for winding cords, twines, coils, or wires. The equipment used for winding coils are known as the coil winding machines. Depending on the requirement of the winding process, these equipment can come in a variety of types and capabilities. There are both manual hand-operated, as well as automatic coil winding machine available in the market. In most applications, automatic coil winding machines are preferred over their manually operated counterpart. Why? Are you intrigued to know? The following post will explain some beneficial features of the automated coil winding machines, and also explain how they help increase the efficiency of work.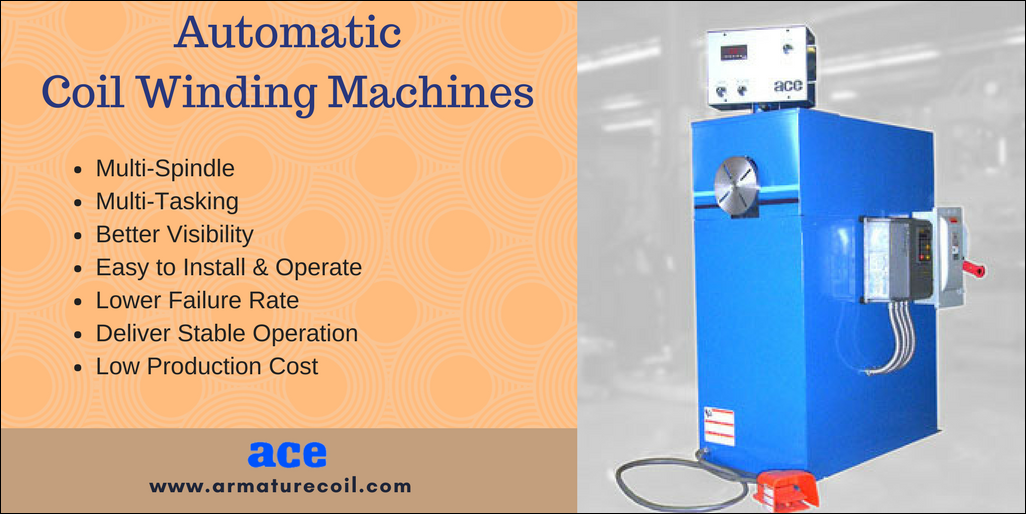 What are the Benefits of Using Automatic Coil Winding Machine?
Here are some striking beneficial features of automatic coil winding machine that make them popular in a number of applications:
These coil winding machines have a better versatility than their manual counterparts. Besides, they are easy to install and operate, and have a lower failure rate.
Unlike manual winding machines, they have the capability to deliver stable operation.
They help reduce the labor requirement for operation. This helps reduce the labor, as well as production costs considerably.
These automatic winding machines can be used to wind various types of wires, such as ac, dc, data lines, etc.
All these beneficial features increase the efficiency. However, there are other two major factors that add to the efficiency. These two factors are explained in the following section of the post.
What Major Factors of the Automatic Winding Machines Help Increase Efficiency?
The following are two major factors, apart from the benefits, which help increase the overall work efficiency of these coil winding machines:
Multi-Spindle: The automatic winding machines feature multi-spindles, which enable the equipment to wind multiple coils at a time.
Multi-Tasking: These automatic machines have the capability to carry out multiple tasks, and processes at the same time. Thus, several industries have discarded their traditional, manually-operated winding machinery, and replaced it with the automatic ones.
The two factors explained above help save a considerable amount of time in coil winding, which can be used for other important tasks.
When Can You Use the Automatic Coil Winding Machine?
You can use these extremely beneficial winding equipment in the following applications:
In telecommunication industries to run transformers
In electrically driven motors
For production of transformers in electrical industries
In electrical devices like solenoids
All the beneficial features explained above, are the reasons why they are preferred in the most applications, over the hand-operated coil winding machines. These automatic equipment can be sourced from several manufacturers or suppliers in the US. However, before making the purchase, you need to ensure whether the supplier is capable of providing quality equipment. Among the few experienced and trusted suppliers and manufacturers, Armature Coil Equipment (ACE) is the one you can trust.