High speed bench winders are designed to meet winding requirements of different types of coils while maintaining precision and efficiency. Many types of coils can be wound in small and large coil layers depending on the application requirements.
Advantageous Features of High Speed Bench Winders
High speed bench winders are powered by a Switch Mode Power Supply (SMPS). This consists of a switching regulator, which enable the SMPS to convert power from the main source and provide adequate amount of voltage and current. It also allows for continuous operations, which help complete coil winding functions in a short period of time.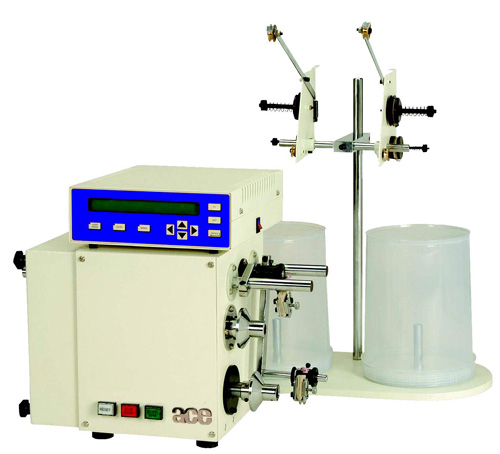 What makes these machines extremely advantageous is that they can be programmed to meet all kinds of wire winding parameters. These include speed, turns, tapping, section winding, layer stop, and accuracy of turns. Let us understand these parameters in detail.
Speed: Generally, bench winders can achieve speeds between 750 RPM and 9,000 RPM. The speeds can even be adjusted during the winding operation via a speed knob.
Turns: The program can count the number of turns with the help of wire guide tracking. The turns are counted with reference to the direction of the wind.
Turn Accuracy: The coil winding equipment can be programmed to ensure that the turns of the coil winding operation are performed either in a specific number of turns, or by programming in steps of angular degrees.
Acceleration and Deceleration: Exact points of acceleration and deceleration can be programmed along with the number of turns.
Tapping: Coil tapping is a technique that creates switch points in the coil. With this, precise coil tones can be achieved, which add to the coil's hum cancelling characteristics. The high speed bench winders can achieve up to 9 taps per winding program.
Section Winding: This is beneficial for large coil winding solutions. The winder is programmed to wind at least 9 sections of coil per program. Also, the winders comprise a huge memory bank, which can save up to 95 section winding programs.
Layer Stop: The program can be altered to ensure that the winder automatically stops after the requisite number of layers have been completed.
The above mentioned beneficial features allow high speed bench winders to wind different types of coils including round, shaped, transformer, inductive and ignition coils.