Rotary ovens are capable of quickly and efficiently heating, cleaning, and drying different types of metal components. This makes the rotary oven an optimum appliance for the scrap metal, recycling and reclaiming industries.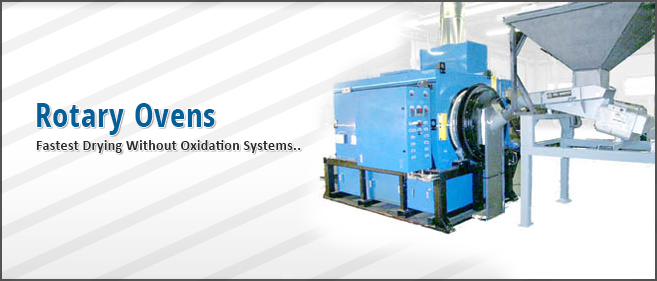 How is It Done?
The rotary oven consists of an in-feed hopper, rotary flight, afterburners, hot zone, and an in-feed and out-feed zone. The scrap is passed via the in-feed hopper into the rotary flight. High temperature gas streams are sprayed onto the scrap.
The hot zone provides heated air, which scrubs against the surface of the scrap metal, removing any contaminants, and turning them into vapor. In this manner, the scrap metal is cleaned thoroughly. The vapors are pushed from the out-feed zone, which also enhances the metal drying process.
Exhausts from the rotary flight retort are pushed into the afterburner chambers. The afterburners operate at over 1500°F, which incinerate all vapors and contaminants. After this, the parts are discharged from the out-feed zone.
Rotary Oven Benefits
Scrap metal dealers or providers can benefit immensely by using industrial rotary ovens.
The ovens are extremely fast, and can clean or dry scrap, which needs to be recycled, in a short amount of time. The high speeds also mean that large scrap metal quantities can be cleaned in a short while.
Rotary ovens have an external control panel, making it easy for operators to use.
The afterburners provide indirect heat for the cleaning process. This eliminates any possibility of heat or flame impingement on the metal.
Indirect heat also means that the operators can control the oven temperatures. This can reduce the oxidation process, as well as the amount of energy used in the cleaning process.
As the contaminants and vapors are incinerated by the afterburners, any other vapor discharges from the oven are harmless to the environment.
Diverse Applications
Rotary ovens can be used to heat, dry, clean various types of scrap metal parts and products.
Coated Parts
Borings
Metal Chips
Microwave ovens
Turnings
Dehumidifiers
Grindings
Machine Shop Scrap
Air conditioners
Gas and electric heaters
Rotary ovens allow scrap metal providers to prepare components as they are brought in. These ovens provide benefits in terms of fast recycling processes, air pollution control, and overall cost-efficiency.